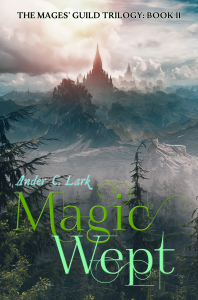 Jorget has no surname, no blood kin, and no hope of using his magical ability while he remains at Archai Castle, where the mad king reigns. With magic still outlawed, every experiment he performs could cost him his life. So when his mentor, the royal priest Denekk, is ordered to send Jorget on a journey to find a magical weapon, the young man jumps at the chance to prove himself. What he doesn't realize is that things are never as simple as they seem.
Kelwin Tiovolk has settled in to life in the Mages' Guild of the Dragon's Claw with his beloved, guild leader Tasis Kadara. But when word arrives that the king is searching for something to destroy the guild, he knows he has to leave behind the comfort of his new home to save what Tasis worked so hard to rebuild.
With enemies around every corner, Jorget and Kelwin need to pull off a miracle in order to save the guild. Luckily, they're more than ready to stand strong together and keep what's precious to them safe.
Second Edition coming soon!
Formerly published by Harmony Ink Press under the name Andi Van – the Harmony Ink Press edition is now out of print.